Beaches of Cape Town
There are more than 30 beaches for the visitor on holiday in Cape Town from which to choose. The most fashionable beaches are found on the Western side of the peninsula, the "Atlantic Ocean" side, while the beaches of False Bay are fed by the warmer Indian Ocean currents and are generally warmer in summer, making for more enjoyable swimming. False Bay is situated on the east side of the peninsula, and is a wide, sweeping inlet protected to the west by the peninsula and to the east by the mainland.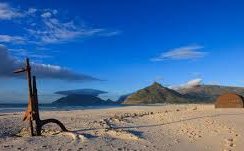 Noordhoek Long Beach
8km of pristine white sand stretching across to Kommetjie on the other side. The beach is so large that it can never become crowded, and offers great bathing and surfing. Even in winter it a pretty spot for relaxing walks enabling you to explore the shipwreck of the Kakapo on its sands. Long Beach is a popular spot for surfing, kite surfing and wind surfing, although the cold waters of the Atlantic are better braved with a wetsuit.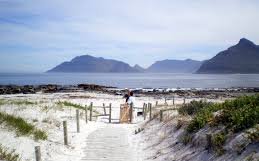 Kommetjie Long Beach
A surfer's paradise; the beach stretches from Noordhoek to the rocky point called "The Kom". Like Noordhoek, if you want to stay in the water for longer than 10 minutes, you will need a wetsuit. Safe bathing for children can be found in a tidal pool at the inlet known as the "Kom".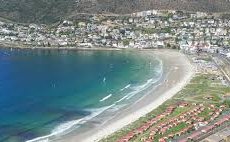 Fish Hoek
Fish Hoek beach is just a 10 minute drive from our affordable Cape Town holiday accommodation and is one of the best family beaches. It has a mile wide stretch of sand for playing or building sandcastles, and a gentle swell where one can swim or kids can learn to body surf. There is a playground at the beach and a pleasant concrete walkway around the bay. In the winter season whales and dolphins may come right up to the walkway, known as the "Jaeger walk."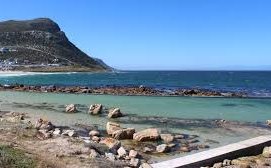 Glen Cairn
Glen Cairn beach is a hidden treasure often missed by visitors on the way to Simons Town. This clean sandy beach is seldom crowded and there is a large tidal pool, making it ideal for children to play and swim in safety. It is just 5 minute's drive from Horizon Cottages. Just opposite the beach you will find a restaurant and a small shopping centre.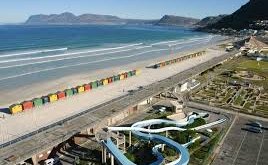 Muizenberg
Muizenberg beach is the most well known and popular of the False Bay beaches that all have great family appeal due to the warmer water , and the fact that they are less pretentious. Muizenberg beach slopes gently toward the sea; making ideal conditions for surfing. The corner of the beach next to the pretty Victorian railway station is known as "Surfers Corner". Here are some quaint cafes and restaurants from which you can watch the surfers at play, while enjoying breakfast or lunch. Muizenberg is a great family friendly beach not only for bathing or surfing but has a water-slide and a putt-putt course.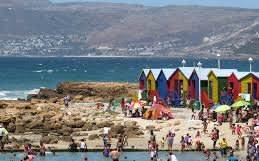 St James
St James beach: There are many False bay beaches with walled tidal pools where both children and adults can swim and play in safety. Just past the popular surfing beach of Muizenberg lies the elite suburb of St James Beach which offers a large, gently sloping tidal pool and a small beach, which is great for children. Here you will find the brightly colored bathing boxes that characterize so many picture postcards of Cape Town holiday destinations, and will offer you an opportunity to take great holiday snaps.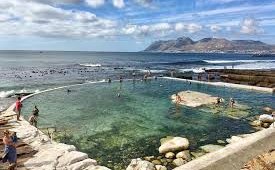 Kalk Bay
Kalk Bay has a large, deep tidal pool for serious swimming with a smaller one for kids. Kalk Bay is an enticing little fishing village and its main street is lined with galleries, antique and collectible shops and restaurants with quaint Victorian shop fronts.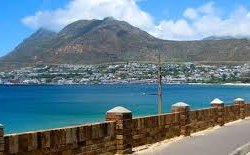 Simons Town
Simons Town is a historic naval town with many attractions, and here you will find the remarkable safe Seaforth Beach, where a family can spend the day relaxing on the verdant green lawns from which you can look out onto the sandy beach and watch the kids at play . A little Bay is formed by a number of very large boulders which makes it as protected as if it was a tidal pool and where one can really enjoy swimming in safety. Seaforth restaurant has a reputation for serving good seafood dishes and has a position on the rocks above the water from where you can enjoy a wonderful view to accompany your food.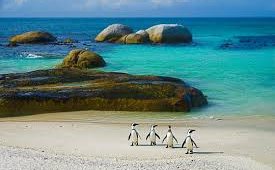 Boulders Beach
Boulders Beach is on the outskirts of Simons Town and has become world famous as the breeding ground of a large population African penguin. This is a pay beach and is one of the best and safest swimming beaches for families and kids in Cape Town. It lies in a small cove and is protected from the wind and sea by giant granite boulders. Boulders Beach has repeatedly been voted the best family beach in the world because of the safe swimming and beautiful setting between granite boulders and the opportunity to swim with penguins.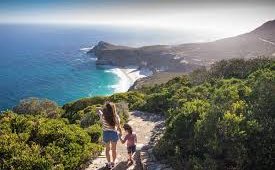 Cape Point Nature Reserve
Cape Point Nature reserve: In the reserve are several beaches of which Buffels bay is the most popular for swimming and surfing with a safe tidal pool and lovely beach as it enjoys the warmer waters of False Bay. On the western side of Cape Point, Platboom and Olifantsbos are the most popular, but there are numerous small beaches and it is possible to walk for miles along this coast.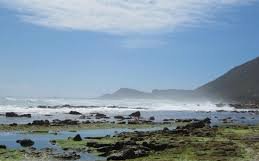 Scarborough
Scarborough is a tiny Coastal village, popular as a retirement spot, with a long sandy beach, great surf, interesting rock pools and lovely walks that makes a good spot for a family outing and a picnic. There are minimal facilities, but there are several good restaurants in the village.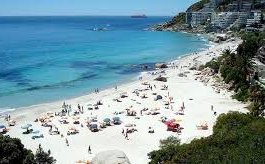 Clifton
Generally the beaches situated on the Atlantic seaboard are upmarket and trendy, reflecting perhaps the expensive properties and the fact that the beautiful people go to see and be seen. The most high profile beach has always been Clifton Beach. Follow the road west out of Cape Town, and the beaches will be easily located by the many attendant parking vendors . A steep series of steps negotiates a passage to the beach. 4th Beach Clifton is the busiest, with the young and the beautiful playing and sunbathing - but mostly trying to look cool. 3rd Beach is frequented by the gay population, while 2nd Beach is the sunning spot of the young and university students. 1st Beach is the least popular (but no less beautiful) than the other three. Clifton is wonderfully sheltered from summer's south-easterly wind, but not many people actually brave the cold water.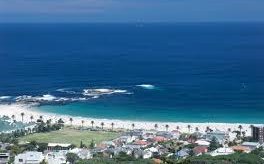 Camps Bay
Camps Bay has long been a favorite destination for overseas visitors to Cape Town, and the beach is popular with locals and tourists alike. Situated just behind Table Mountain, nestled beneath Lions Head and the majestic Twelve Apostles peaks, it boasts a magnificent palm fringed sandy beach, Camps Bay is sometimes referred to as our Cape Town Riviera. The road fronting the beach is lined with cafes, restaurants and bars that are pricey, but are superbly situated , with superb views. Camps bay is definitely a family friendly beach and at the south end is a tidal pool for kids to bathe in safety.